SIMPL Rental Program
An all-inclusive rental program for Culligan Water Softeners and Drinking Water Systems!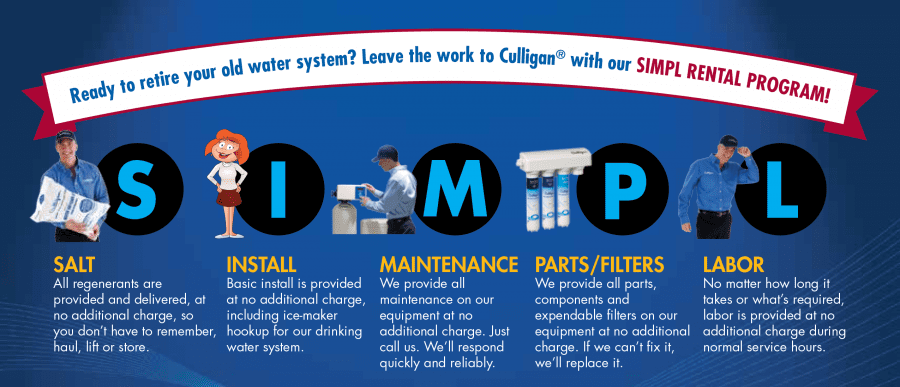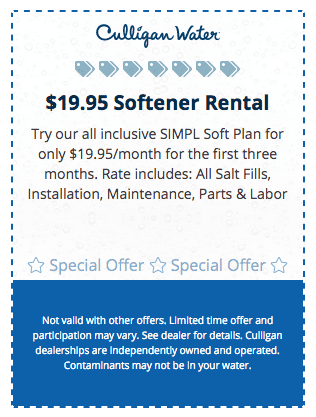 Our SIMPL program makes renting a Culligan Water Softener or Drinking Water System a breeze! Simply sit back and enjoy your great water, while the Culligan Man handles the rest. You can try our SIMPL rental program for only $19.95/mo for the first three months.
Visit our contact page and fill out a form
or call us at
419-405-3568
to sign-up today!
With our SIMPL rental program you receive:
SALT: We deliver salt and fill your softener's salt tank, so you don't have to deal with the expense, hassle and backaches of handling it yourself.
INSTALLATION: Basic installation is free, even for ice maker hookups for our drinking water systems.
MAINTENANCE: It's our job to maintain the equipment. If you notice a problem just call us. We'll respond quickly and reliably.
PARTS: If any repairs or regular maintenance are needed, all parts, components and filters are provided at no additional charge to you. If we can't fix it, we'll replace it.
LABOR: No matter how long it takes or what's required, all labor is provided at no additional charge to you
Learn more about how you can have better water.
Latest
Blog Posts
Clean water is essential for life. Find out what's in your water with a free water test from your local
So what exactly are some of the most common water problems and their Culligan solutions? Before we get started, let's
We have been Culligan customers for over 10 years and have called upon them numerous times for help. We have called upon them for routine maintenance and problem solving. Each and every time they have exceeded our expectation. They are capable and courteous and always going that extra mile for us!

Susan Gates
- Culligan Customer